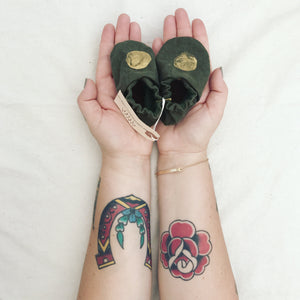 Indigo Moon Moccs
Inspired by our nights under the moon on our yearly camping trip in our 1983 VW Camper
We like to be inspired by the people we meet, nature, history, community and our journeys in our 1984 VW Camper
"Perfect shoes to protect baby feet as they learn to walk."
"LOVE THESE BABY SHOES
Super comfy, easy to wear and adorable!"
"These baby moccs were a gift for my best friend's baby on the way. They are adorable! So well made and look like little pieces of art. I also bought some clothes from this company for my two girls. LOVE them all. High quality, organic, beautiful design, very tasteful."